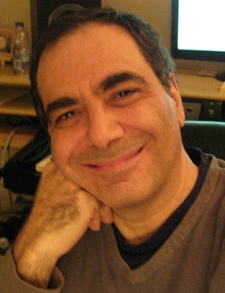 Music became a great passion for Guy at the age of 11 years and his talent for composition and improvisation flourished very early. After 4 years of private piano lessons, he studied for 6 years with pianist Paul Loyonnet. Guy gainsed experience composing music for local theaters, became organist for a parish, accompanist for dance schools, taoght piano and later his great versatility led him to worked as the house pianists in different places, among them was the prestigious "Club Saint Denis" of Montreal.

In 1986 Guy obtained his Bachelor in Composition from the University of McGill and later a Masters in Performance from the University of Montreal. In 1996, he produced a CD which will serve as demo for film music. Guy Co-wrote the score for the film Eternal (2004), and since then we find his music in several dozen scenes of films and documentaries.

Since 2004, Guy has worked for the renowned company VSL (Vienna Symphonic Library). From 2008 to 2010, he wrote numerous "jingles" for advertisements for the company"HumanWorldwide".

In 2010 and onwards, Guy has focussed much more on concert music. He produced many professional recordings with orchestras of his works. More and more, Guy's music is reaching a wide audience and regularly performed around the world by professional musicians. Notably, Rhapsodic Variations on Lie Ciocarlie, Mourning, Christmas Chimes and more recently: Romantic Variations.

Guy Just completed a collection of Christmas works based on traditional songs done in his rendition though variation form, rhapsodic developments and his color palettes, and pland to make a CD for this Christmas.
Guy est un passionné de musique depuis l'âge de 11 ans. Pianiste accompli, il excelle aussi en composition et en improvisation. Très versatile, tous les styles de musique sont pour lui une source inépuisable d'improvisation. De formation classique, puisque étudiant le piano pendant plusieurs années avec le réputé Paul Loyonnet, de renommée internationale, il compléta sa formation:

1- à l'université McGill pour l'obtention d'un Baccalauréat avec comme professeurs, entre autres: Bruce Mather, Benêt Hambraeus, Alcides Lanza, Brian Cherny, Rose Goldblatt. Ainsi qu'à:

2- l'université de Montréal pour une Maîtrise en interpretation (piano), sous la guidance de Claude Savard et Marc Durand.

Il performa par la suite dans les domaines du spectacle, du cinéma, de la danse et de la télévision. Depuis 2004, il travaille pour la prestigieuse compagnie VSL (Vienna Symphonique Library) comme créateur de musique produite par des instruments virtuels. Sa réputation dans le domaine en fait un chef de file un peu partout a travers le monde. Depuis 2010, Guy oriente toute son énergie créatrice vers la musique de concert. Il produit plusieurs enregistrements professionnels avec l'orchestre Capellen de la république Tchèque.

Plusieurs de ses pièces ont été jouées en concert dont:

1- "Rhapsodic Variations on Lie Ciocarlie" qui en est à sa 7e représentations à travers l'Europe, dont la Roumanie et le Portugal.

2- "Christmas Chimes" petit chef d'oeuvre pour 2 pianos, ou à Paris, et très en demande depuis.

3- Mourning pour violoncelle, choeur et orchestre entendu à New York lors d'une chorégraphie de Lorna Brown pour la
championne Américaine Beata Handra.

Guy souhaiterait aussi, être joué au Canada, où il réside, être enfin connu chez lui serait l'aboutissement d'un chemin très fertile parsemé de belles réussites mais où il ne manque que les petites racines québécoise et canadiennes.